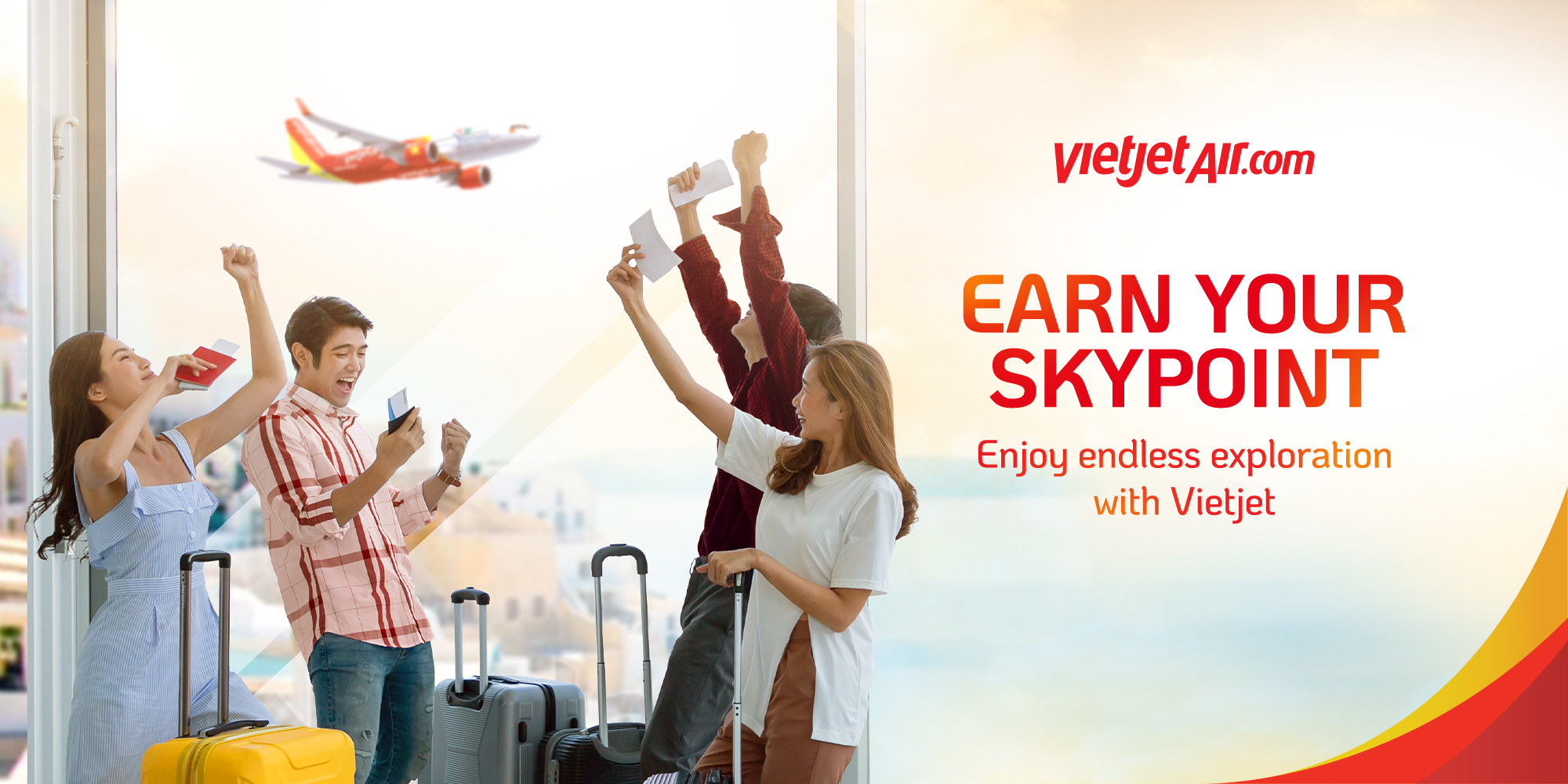 A loyalty app for your beloved serivces, such as healthcare service, food & beverage, entertainment. Being rewarded points for your daily shopping, spending activities with VietJet Air, HDBank, Menas,...and other brands.
Earn SkyPoint when flying with Vietjet
Earn 1 SkyPoint easily for every VND 10,000 spent and
used services at Vietjet

Up to 5x Easier
To move up the Membership Tier
& enjoy Privileges

Up to 6x Faster
In Earning SkyPoint. Spend VND 10k
get 1 SkyPoint.

250+ better brands
For redemption in Vietnam

Member's Exclusive
Vietjet flight redemption
(*) So với chương trình khách hàng thân thiết của các hãng Hàng không nội địa Việt Nam khác.
Products and services qualify for SkyPoint
Applicable on Vietjet regular commercial flights including domestic and international routes from 24/12/2022.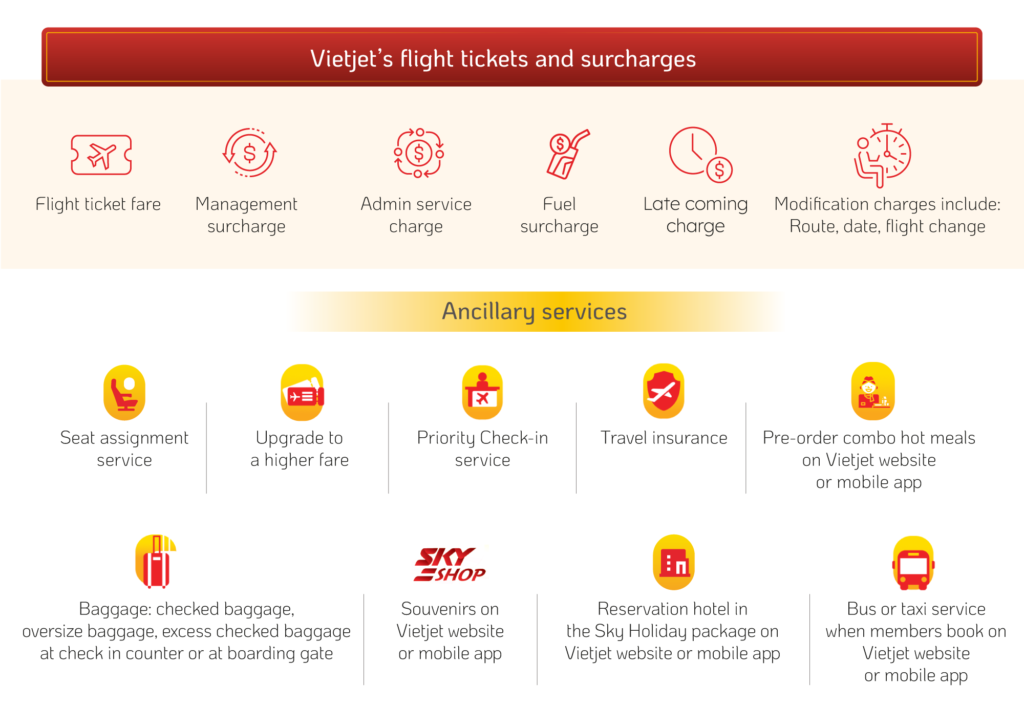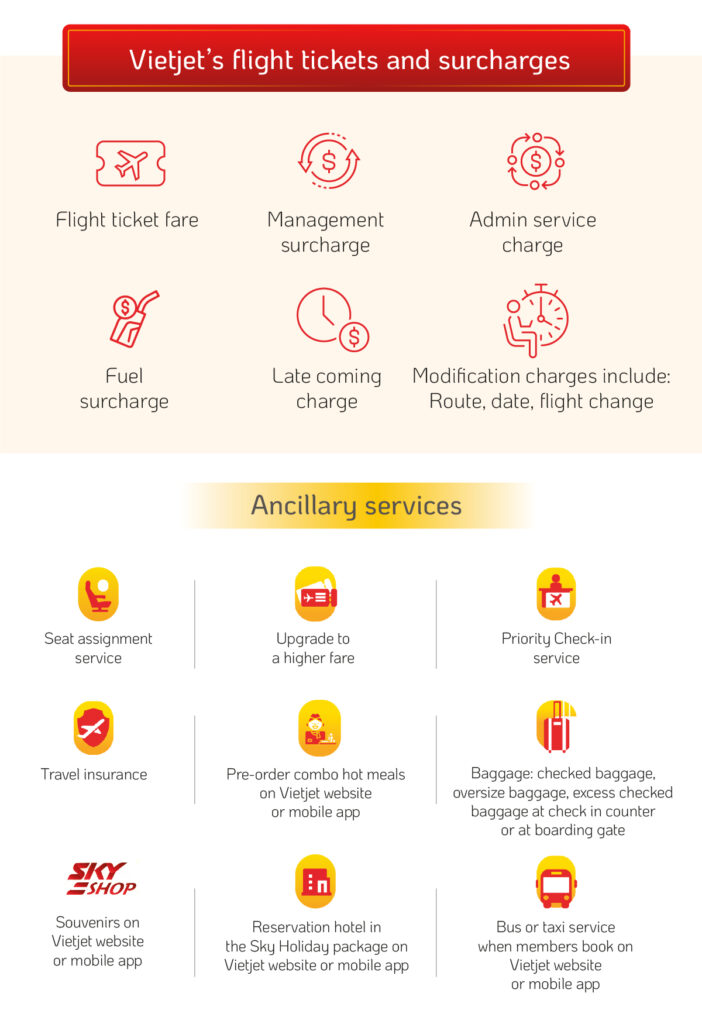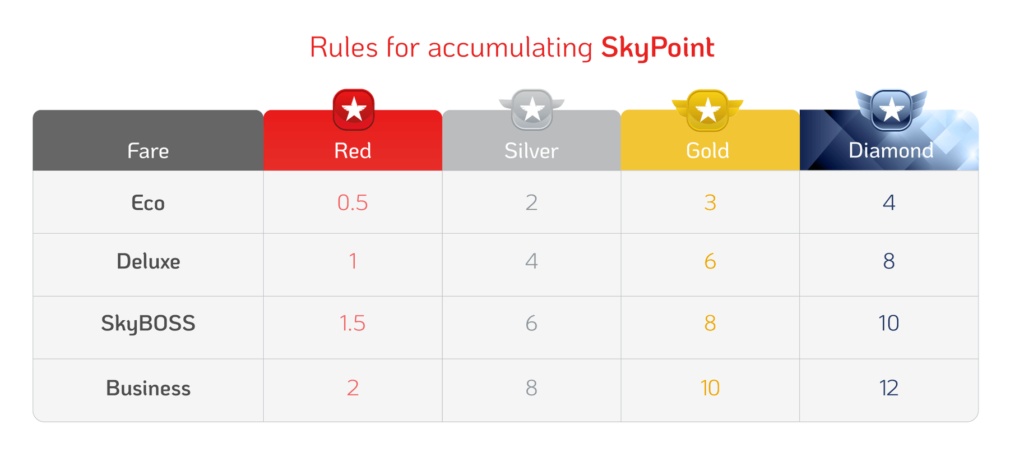 Members earn SkyPoint based on the total spending of flight ticket fares and purchased ancillary services.
The rate of SkyPoint accumulation is calculated based on the Membership Tier and the fare class that member chooses to buy.
Formula to calculate earned SkyPoint:
Earned SkyPoint = (The amount of spending is eligible to earn SkyPoint / VND 10,000) x SkyPoint accrual rate corresponding to the Membership Tier and the selected fare class
For example:
A Silver member chooses to buy 01 one-way Hanoi – Saigon Deluxe ticket with 20kg checked baggage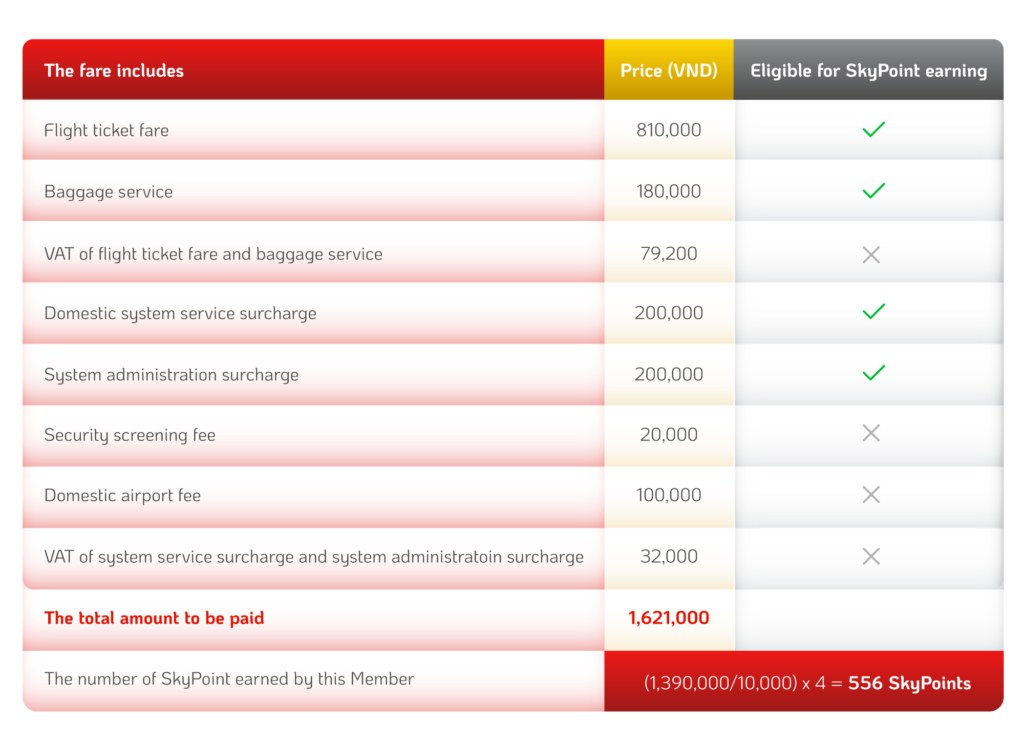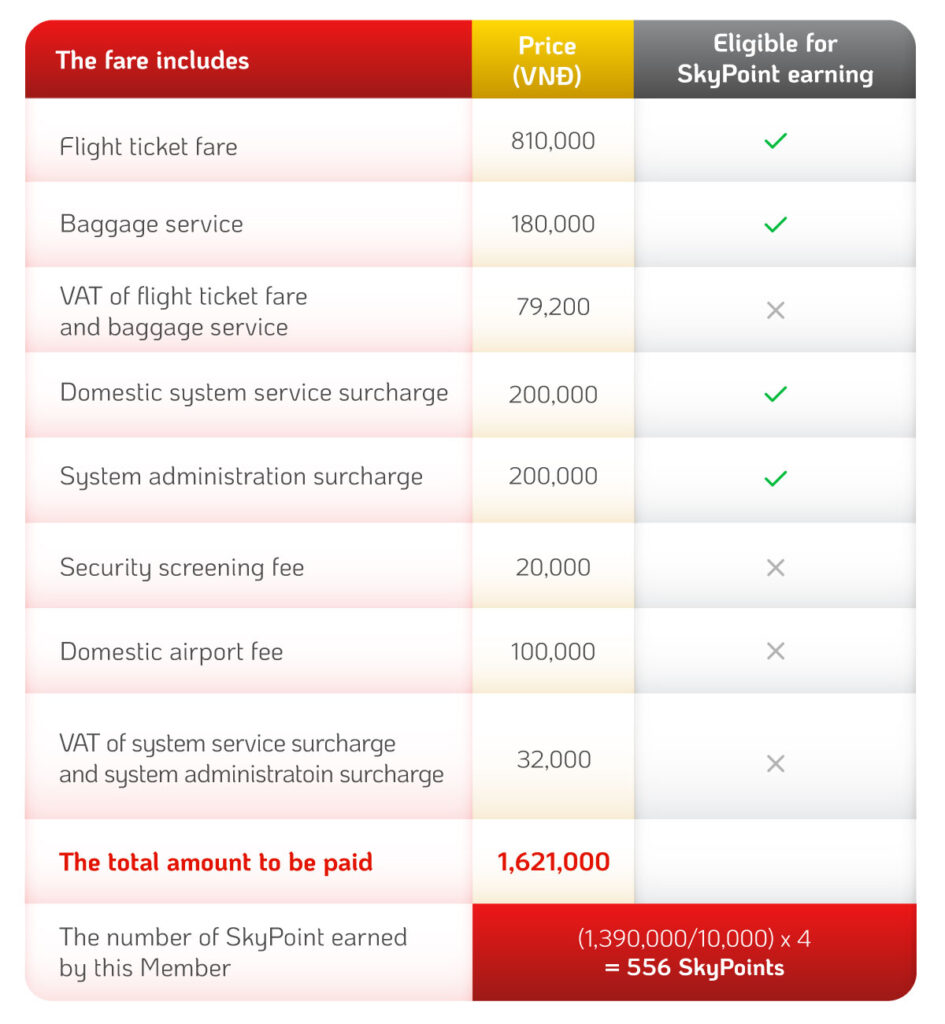 Enjoy a joyful travel journey with numerous attractive privileges from Vietjet!
*Requirements For Membership Tier of SkyJoy are based on the number of regular commercial flights operated by Vietjet, excluding charter flights. 
** Special occasions include Valentines day 14/2, International Women's day 8/3, Mother's day, Father's day, Vietnam National day 2/9, Vietnamese Women's day 20/10 & Single day 11/11.
Priority privileges at the airport include: Priority check-in, Priority bag claim, Priority boarding (at the departure gate), excluding priority bus service to the aircraft. Applicable to domestic flights at 18 airports and international flights departing from 8 airports: Tan Son Nhat (HCMC), Noi Bai (Ha Noi), Da Nang, Can Tho, Phu Quoc, Lien Khuong (Da Lat), and Cat Bi (Hai Phong).
Members need to complete Account Verification and present their membership information on the SkyJoy app when flying to enjoy these priority privileges.

Benefits & privileges are subjected to change at any time by the programme operator. They shall comply with the general T&C while stand alone campaigns shall comply with their own exclusive T&C.
Explore the list of flight routes applied for Fixed Point ticket here
Endless Exploration with SkyPoint Redemption
Endless exploration for flight tickets from Vietjet
and gifts from 250+ much-loved brands in Vietnam with SkyPoint redemption
Fixed Point Flight Ticket
Vietjet Fixed Point Flight Ticket is an exclusive reward ticket for Vietjet SkyJoy Members with up to 70% savings. Achieve your limitless travel dream with Fixed Point Flight Ticket which SkyJoy Members can redeem all routes, all year round on first come first serve basis. With the Fixed Point Flight ticket, Members can use a fixed number of points to redeem for commercial flights operated by Vietjet. Fixed Point are fixed for hour-base redemption.
Members can find more details about the terms and conditions of the Fixed Point flight ticket here and check the list of applicable flight routes for Fixed Point Flight ticket redemption here.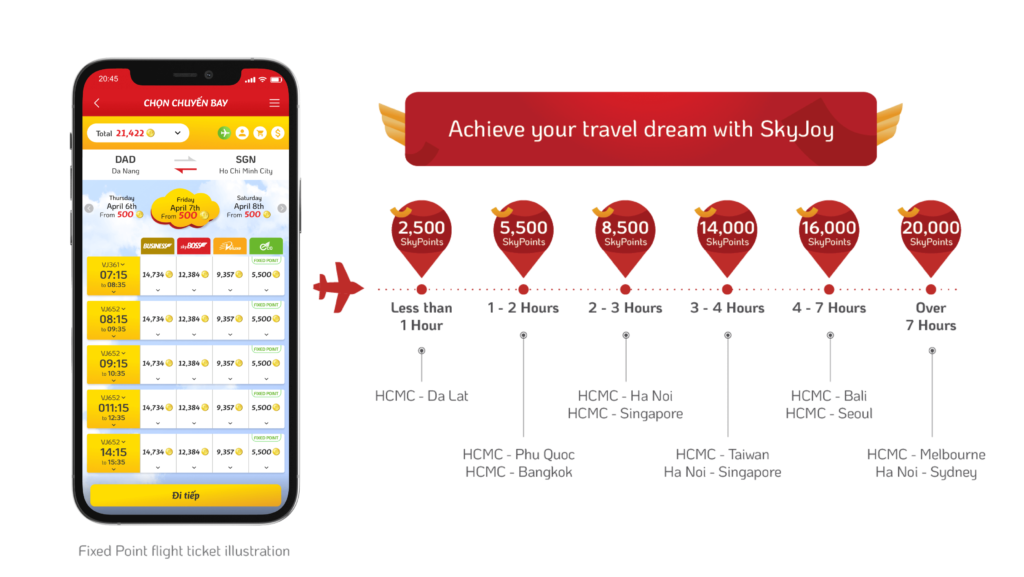 Note:
These required SkyPoint applying for Fixed Point base fare only, exclude tax and fees

The point redemption rate may be adjusted by GalaxyJoy from time to time without prior notice.
Market Fare Flight Ticket
Limitless Flight for FREE with SkyPoint Earned
Market Fare flight tickets are tickets with fares being listed in SkyPoint for flight redemption. Members can use SkyPoint earned for FREE as a form of discount and use SkyPoint for flight redemption when the fares are high, especially during peak seasons. Buy more SkyPoint by cash if insufficient point to complete the redemption.
Enjoy the exclusive privilege of being able to redeem flight tickets in full with SkyPoint (including taxes and fees) and ultimately receive FREE flights if you have enough SkyPoint!
Members can find more details about the terms and conditions of the Market Fare flight ticket here.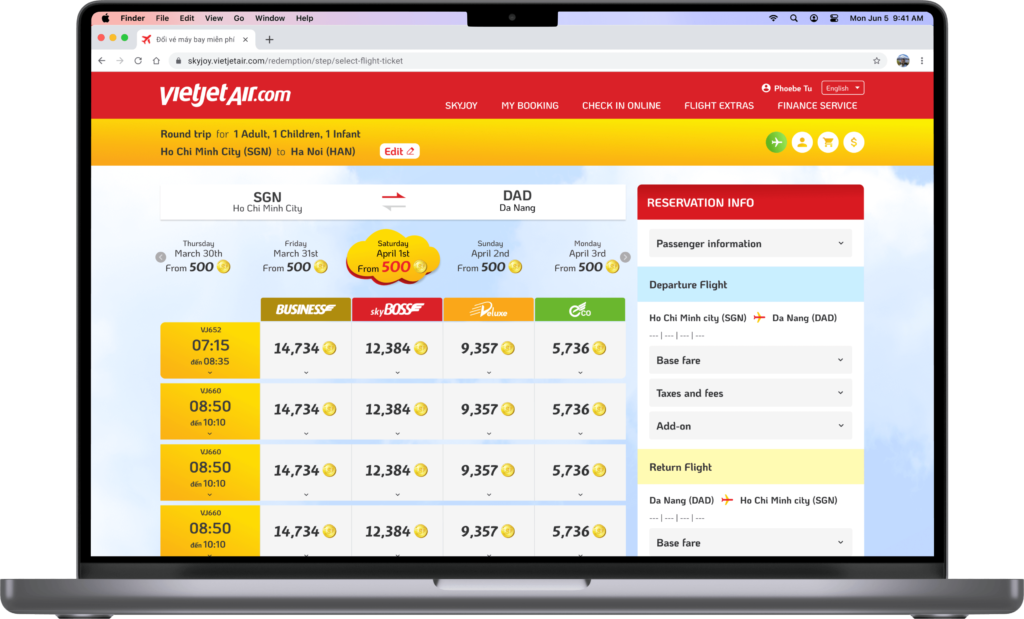 Explore rewards from the most popular brands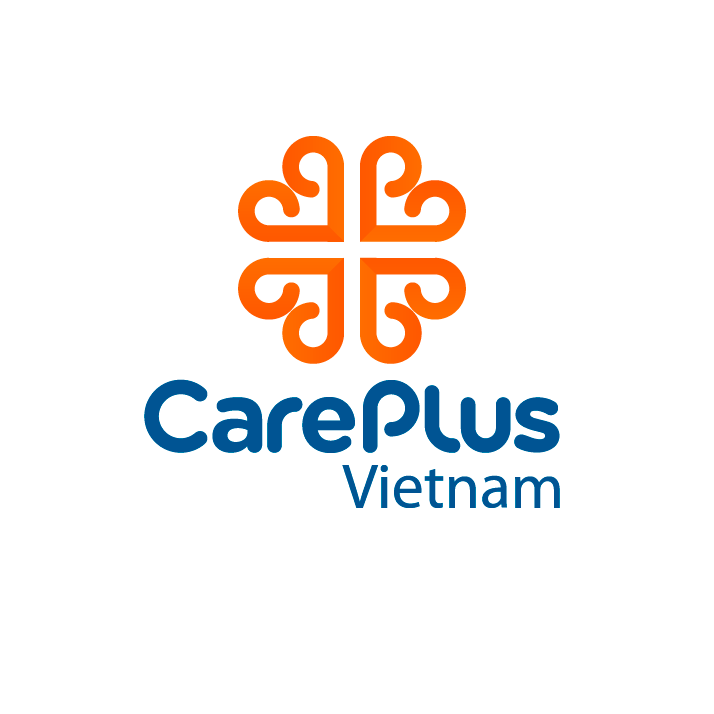 67124442_2256272474480132_5778725084831154176_n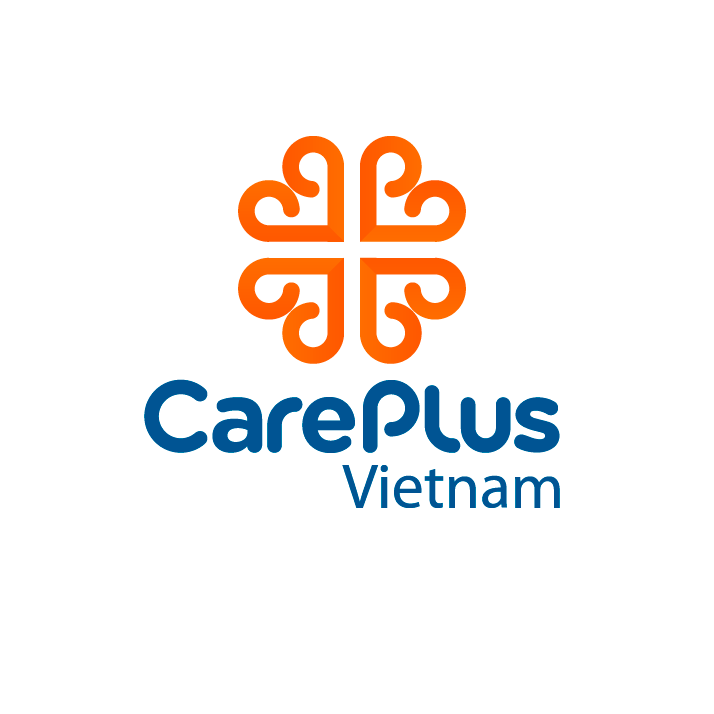 67124442_2256272474480132_5778725084831154176_n






3 steps to discover the Galaxy of Joy
Enter your phone number and information to register SkyJoy account.
Enter the OTP and set a PIN-code. Your SkyJoy ID will be sent to you via SMS
Enter your SkyJoy ID when buying Vietjet tickets to earn SkyPoint.